Thanksgiving Barks and Brews
November 25 @ 1:00 PM

-

6:00 PM

Free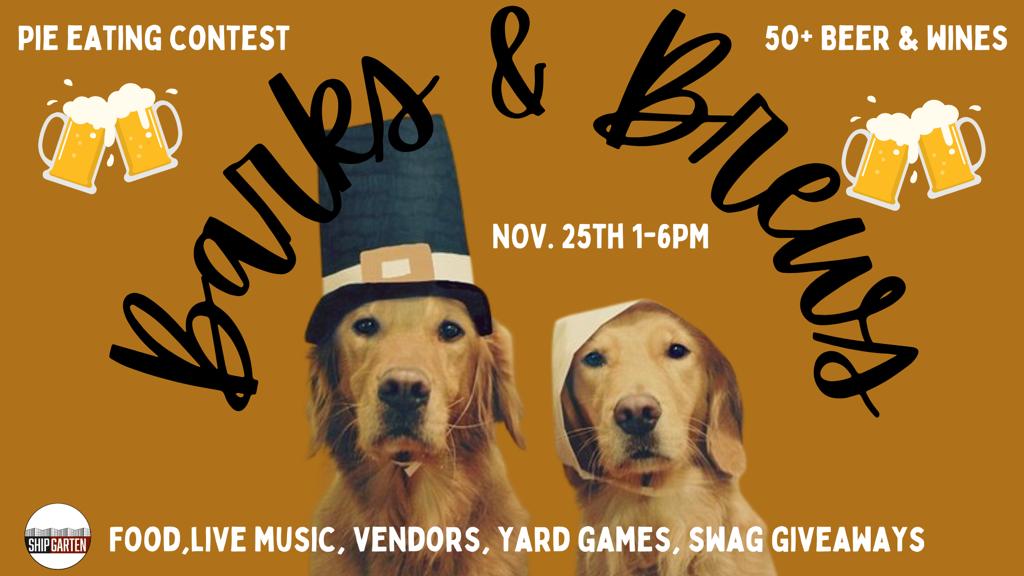 Join us Saturday November 25th for our annual Thanksgiving Beer festival!
***Shipgarten opens at 11 AM & the festival runs from 1 PM until 6 PM. Restaurant closes at 2 AM***
EVENT SCHEDULE:
3:00 PM – Dog Competitions!
Smallest Dog Contest
Biggest Dog Contest
Doggy Runway – Best Dressed Dog Contest
Best High Five or Trick Competition
Live Music:
♫ 12:30-3:30PM Billy T Wilde
♫ 4-7:30PM Zach Jones
★Featuring 50+ beers & wines from local breweries and wineries to choose from★
★Live Music
★Local vendors
★Great food
★Dog Friendly (Check out our Dog menu, play in the dog park, or just bring your pup along)
★Kid Friendly (Playground, face painting, crafts corner)
★Yard Games
★Bratwursts, Pretzels, Wings, and more!
★Swag giveaways
Click here for Festival Beer Menu
✪ Featured Breweries ✪
Bayerische Staatsbrauerei Weihenstephan Weihenstephaner Korbinian
Bock – Doppelbock / 7.4% ABV / 32 IBU / 222 CAL / Freising, Bayern /
Our Korbinian, the full-bodied, dark Doppelbock with light brown foam, wins beer-lovers over with a balance of fruity hints of plums and figs, a dark malt aroma – reminiscent of toffee, nuts and chocolate. Its roasted flavour goes well with smoked meat and fish as well as venison and poultry. Brewed according to our centuries-old brewing tradition on the Weihenstephan hill.
Brasserie d'Achouffe Houblon Chouffe
IPA – Belgian / 9% ABV / 47 IBU / 270 CAL / Achouffe, Wallonie /
The gnomes of Fairyland may be little, but they have big, very big, personalities. HOUBLON CHOUFFE matches their impish spirits. All gnomes, with their innate good taste, are in full agreement about HOUBLON CHOUFFE, which is flavoured by three different types of hops. This India Pale Ale is appreciated for its pronounced bitterness combined with the fruity tones of traditional Achouffe beers: it softens the strongest of characters.
Brasserie d'Achouffe La Chouffe Blond
Belgian Strong Golden Ale / 8% ABV / 20 IBU / 240 CAL / Achouffe, Wallonie /
The gnomes of Fairyland are particularly fond of this golden beer. LA CHOUFFE, with its slight hoppy taste, combining notes of fresh coriander and fruity tones, is the drink which gives them their zest for life. At least, that's what these imps say when they are thirsty. Their secret used to be jealously guarded from one generation to the next until the day they shared the recipe with humans to seal their friendship. Of all the legends from the wonderful region of the Belgian Ardennes, the tale of LA CHOUFFE is the one which most merits re-telling.
Brasserie d'Achouffe Mc Chouffe
Belgian Strong Dark Ale / 8% ABV / 20 IBU / 240 CAL / Achouffe, Wallonie /
Among the mythical characters living in Fairyland, some are more unusual than others. Malcolm, for example, is different because of his accent and his kilt: when it comes to beer, his favourite is Mc CHOUFFE. The delicious flavours of aniseed, liquorice and toffee tickle his taste buds. If you listen to him, he will boast of its ruby sparkle, its smooth bitterness and its strong character, worthy of his native Scotland. Although robust, Mc CHOUFFE goes down as easily as LA CHOUFFE.
Brouwerij Rodenbach Rodenbach Grand Cru
Sour – Flanders Red Ale / 6% ABV / 35 IBU / 180 CAL / Roeselare, Vlaanderen /
This is an aged Belgian red ale, which is 'ripened quietly in oak barrels for two years', according to the label. It has an extremely pungent aroma of rich grapey fruit, with acidic notes, very much like a slightly sour red wine or possibly a gueuze. In the mouth it is slightly sweet, extremely acidic and fruity, with grapes and even cherries discernible, and very lively. Despite the sweetness it is not at all cloying, even thin, with little or no trace of malt. Finish is sharp and fruity.
Crooked Run Fermentation Vaporware
IPA – New England / 6% ABV / 180 CAL / Sterling, VA /
Vaporware is luxuriously hopped with Cashmere and Ariana hops for a smooth, lemony flavor with light herbal notes.
Delirium – Huyghe Delirium Nocturnum
Belgian Strong Dark Ale / 8.5% ABV / 24 IBU / 255 CAL / Melle, Vlaanderen /
Color and Sight: Dark Chocolate Brown with a compact foam, white-yellow, stable and creamy. Odor Touches of caramel, mocca and chocolate. Spices such as licorice and coriander are also present.
Taste: Initially a very pleasant sensation in the mouth of alcohol and softness. It is followed by a growing bitterness, which comes partly from hops, but also from roasted malt and chocolate malt.
Towards the end, pleasant balance between bitter, sour and sweet notes.
Erdinger Weissbräu Erdinger Dunkel
Wheat Beer – Dunkelweizen / 5.3% ABV / 14 IBU / 159 CAL / Erding, Bayern /
Selected dark malts with a fine roasted aroma make ERDINGER Dunkel a full-bodied enjoyment with a strong character. It fills the glass elegantly and shines in deep brown tones. The first sip delights with a harmonious harmony of selected dark wheat and barley malts with first-class Hallertau aromatic hops. Caramel notes, hints of nuts and fresh bread can be tasted. The traditional ERDINGER yeast unmistakably sets its top-fermenting accent. ERDINGER Dunkel made its debut in 1989 when the ERDINGER master brewer Werner Brombach, owner of the private brewery, brewed a dark wheat beer for his birthday. The recipient liked it so much that he put it on the market in 1990.
Honor Lady Liberty
Wheat Beer – Other / 5.5% ABV / 10 IBU / 165 CAL / Arcola, VA /
Belgian style American wheat beer that is brewed to be crisp, refreshing, and drinkable. Brewed with Pilsner and wheat malts, American yeast, and one pound per gallon of fresh tart and sweet cherry puree.
Honor Sonic Boom
IPA – Imperial / 8% ABV / 70 IBU / 240 CAL / Arcola, VA /
Prepare to be blown away by this double IPA dry-hopped with insane amounts of dank and juicy Mosaic, Citra, and Azacca. A light golden haze of wheat and oats support a burst of hops on the nose and palate. A swift punch of flavor, directly to your taste buds!
Köstritzer Schwarzbierbrauerei Köstritzer Schwarzbier
Schwarzbier / 4.8% ABV / 22 IBU / 144 CAL / Bad Köstritz, Thüringen /
Since April 1991, the Köstritzer black beer brewery, a subsidiary of the Bitburger brewery, has emerged as of one of the most modern breweries in Thuringia. In September 1993, it was with great pride we (re-) introduced the "original Köstritzer black beer".
Mustang Sally Crumbs: Key Lime Pie
Sour – Fruited / 8.2% ABV / 246 CAL / Chantilly, VA /
Key Lime Pie inspired Imperial Sour. Newest addition to the Crumbs series and brewed to remind you of the key lime pies that your grandparents used to make.
Old Ox Black Ox
Porter – Other / 6% ABV / 20 IBU / 180 CAL / Ashburn, VA /
A robust rye porter with hints of coffee and chocolate nicely balanced with a subtle hop influence. A substantial, malty ale, complex and flavorful with a medium body and a slightly roasty finish. The rich dark color is deceptively refreshing. The spice in the rye clears the palate. A sip will explain why we say this is a delightful combination of sweet and spicy!
Old Ox Keg Nog
Spiced / 8% ABV / 240 CAL / Ashburn, VA /
We've brewed up one Dickens of an ale. Wheat, oats, and lactose contribute to a silky mouthfeel while nutmeg, vanilla and cinnamon add just the right amount of spice. Images of Fezziwig will dance in your head!
Oskar Blues Brewery® Dale's® Pale Ale
Pale Ale – American / 6.5% ABV / 65 IBU / 200 CAL / Longmont, CO /
This voluminously hopped mutha delivers a hoppy nose and assertive-but-balanced flavors of pale malts and citrusy floral hops from start to finish. Oskar Blues launched its canning ops in 2002, brewing and hand-canning Dale's Pale Ale in the Lyons, Colorado, brewpub. America's first-craft-canned mountain pale is a hearty, critically acclaimed trailblazer that changed the way craft beer fiends perceive portable beer
Oskar Blues Brewery® Mama's Little Yella Pils®
Pilsner – Czech / 4.7% ABV / 35 IBU / 150 CAL / Longmont, CO /
Mama's Little Yella Pils – Our upcoming new canned good is a small-batch version of the beer that made Pilsen, Czechoslovakia famous. Mama's is made with hearty amounts of pale malt, German specialty malts, and a blend of traditional (Saaz) and 21st century Bavarian hops. Our first canned lager, it's also fermented at cool temperatures with a German yeast. This tasteful reality Czech is the perfect antidote for the watered-down versions of pilsner clogging Americaâ's shelves. And Mama's gentle hopping (about 35 IBUs) and low ABV (just 4.7%) mean we're finally honoring consumer requests for a delicious but less-challenging beer. (Hey, we like a good low-dose session beer, too.) Look for our Gold Metal Winner on US shelves in March. Sadly, the Feds rejected our Take Two and Call Us in the Morning line on the can.
Three Notch'd History In the Making
IPA – New England / 7% ABV / 20 IBU / 210 CAL / Charlottesville, VA /
Brewed in collaboration with Sam Adams and their Head Brewer, Megan Parisi, this is their "true New England-style" take on our Minute Man IPA. Like us, they are not only inspired by history, but passionate about making it. Join the celebration of our 10th anniversary and raise a can (or glass).
Three Notch'd Mango Wheat
Wheat Beer – American Pale Wheat / 4.8% ABV / 12 IBU / 144 CAL / Charlottesville, VA / Crushable wheat beer brewed with slightly sweet, juicy mango
Tucher Bräu Dunkles Hefe Weizen
Wheat Beer – Dunkelweizen / 5.2% ABV / 13 IBU / 156 CAL / Fürth, Bayern /
A Bavarian specialty of dark colored, top fermented yeast beer with typical yeast cloudiness. Its unmistakable and well balanced taste is due to an excellent choice of dark aromatic malt and goes very well with traditional Bavarian dishes.
Tucher Bräu Original Nürnberger Rotbier
Lager – Amber / 5.5% ABV / 165 CAL / Fürth, Bayern /
Our original Nuremberg red beer reflects the origins of the Nuremberg brewing craft and is brewed according to a traditional recipe. We brew our red beer as full beer and strong beer using four types of malt each. The powerful strong beer is stored in oak barrels for fine maturation. After the storage time, our master brewers decide purely based on sensory criteria whether and, above all, which strong beer stored in wooden barrels can be mixed with the full beer. The result is a balanced, yet powerfully lively red beer of a special kind!