International Bier Festival
October 15, 2022 @ 1:00 PM

-

6:00 PM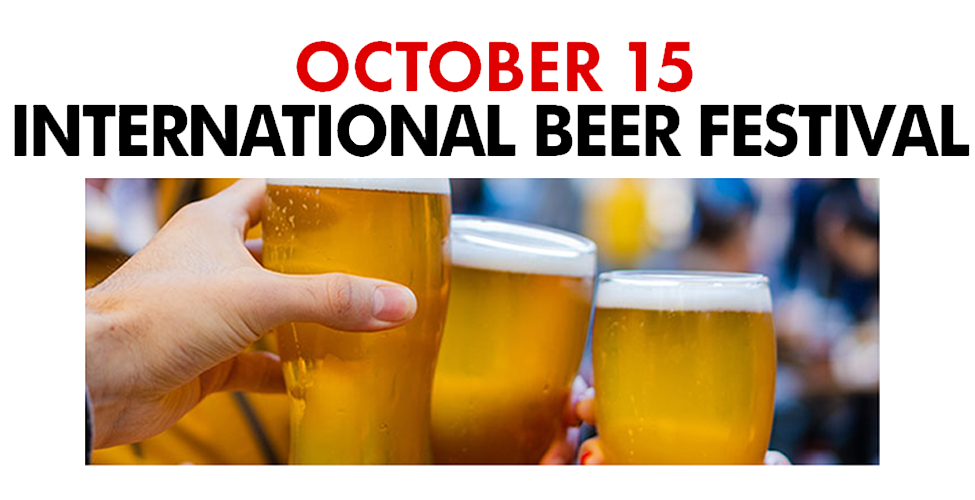 Join us on Saturday, October 15th, for our International Bier Festival featuring 50+ biers from around the world, complemented by a variety of brewery and distillery representatives!
Dress up & bring your family and friends for a day of fun, culture, and competition!
***Shipgarten opens at 11 AM & the festival runs from 1 PM until 6 PM. Restaurant closes at 2 AM***
EVENT SCHEDULE:
2:00 PM – Taco Eating Contest
3:00 PM – Stein Hoisting Competition
3:30 PM – INTERNATIONAL OUTFIT COMPETITION:
-Best International Couples Outfit: $200 Gift Card
-Best International Men's Outfit: $100 Gift Card
-Best International Women's Outfit: $100 Gift Card
5:00 PM – Water Balloon Toss
5:30 PM – 3-Legged Race
AND MORE!!!…
➳ 50+ beers to sample from Asian, South & Latin America, American Craft beers and Europe (jockey boxes will be set up with various types of beers for you to sample)
➳ Meet and Greet Reps from Germany, Belgium, Austria, & the US!
♫ Live Music (12:30 PM – 7:30 PM)
♫ Live DJ (8:00 PM – 2:00 AM)
★ Encanto Live Character Performance @ 3 PM
➳ Bratwursts, Pretzels, Wings, Special of the Day
➳ Outdoor Games & Activities
➳ Pet Friendly
➳ Giveaways, Competitions, & Prizes
➳ Kids' Corner with Face Painting, Moon Bounce, Crafts, and More
➳ Photo Booth
✪ Featured Breweries ✪
Hardywood
Farmhouse Pumpkin- 8.5% – Hardywood Farmhouse Pumpkin is a Wallonian-style saison brewed with a classic saison yeast, Virginia-grown sugar pie pumpkins from Snake Creek Farms, whole nutmeg, clove and allspice from C.F. Sauer (Richmond, VA), and fresh ginger root from Casselmonte Farms (Powhatan, VA). Our farmhouse ale presents a delicate spice profile that compliments the saison yeast esters. Farmhouse Pumpkin is soft in mouthfeel with balanced, rustic fall flavors.
Air Gourd'n Pumpkin- 6.3% ABV- From the incredible local brewery Solace comes their fall seasonal special; a spiced pumpkin porter for heading into the spooky season! A traditional roasty porter base with loads of pumpkin up front with a nice, light spicing in the aftertaste.
Gute Nacht- 6% ABV- The pillowy malts and full-body are like a love letter to this Munich tradition of seasonal brewing.
Calvert Brewery
Oktoberfest- 5.5% ABV- Made with German malts and Tettnang and Saaz hops, this Oktoberfest is crisp and clean, yet rich and layered, just like the first day of Autumn.
I Just Crush A lot- 5.5% ABV- This tart ale with plum and blackberry transforms during the drinking. From the initial burst of sour, through the rich, fruity middle, and into the bready malt finish, it sends the drinker on a dream vacation for the taste buds. The complexity tantalizes the palate with each sip. It's so crushable that you'll crave it.
Crooked Run
Pyramid Scheme- 6% ABV- Pyramid Scheme is a 100% Mosaic hopped hazy IPA. Your typical multi-level Mosaic hop flavor, citrus, bubblegum, passion fruit. The opportunity you've been waiting for.
Aslin
Infrared Starfish – 5.7% ABV- Infrared Starfish features a new hop to the industry called Nectaron (sister to Waimea out of New Zealand). Big notes of juicy pineapple, peach, nectarines, lime, and tropical passionfruit in this beer!
VelociRabbit – 5.5% ABV- The ancient ancestor of the modern day Kangaroo, a VelociRabbit was notorious for herding large amounts of Beach Chickens to their demise. This lower ABV IPA is the little brother of Laser Raptors. Using the same amounts of Mosaic, Simcoe and Chinook as Laser Raptors, this beer has a powerful berry aroma and nice pine note. The oats and wheat maintain the creamy mouthfeel that Laser Raptors is known for lending the lower ABV the ability to make a crispy break just as the hops surprise your palate.
Brothers Craft Brewing
Proud And True – Dukes Lager – 4.9% ABV- A wonderfully executed craft light lager, Proud and True Dukes Lager is clean and refreshing with malty smooth flavor. Just a touch of hops gives balance to this sessionable beer, creating notes of slight sweetness with a crisp finish. An officially licensed product of JMU!
Charles Towne Fermentory
Claudia – 7.2% ABV- Dry-hopped exclusively with German hops – subtle Huell Melon hops & the newer and more expressive Diamant hops – this IPA features notes of bright, ripe melon and floral strawberries.
Crooked Run Fermentation
Spinning Circles – 6% ABV- Spinning Circles is an opaque, soft IPA with lots of Motueka and Strata for flavors of mango, Meyer lemon, and pithy lime.
Downeast Cider
Cider Donut – 5.2% ABV- Cinnamon, brown sugar, and vanilla with a fresh pressed cider backbone. Come for the apples stay for the donut.
Pumpkin Blend – 5.1% ABV- Apples pressed with Pumpkins, aged with chai tea spices. It's balance makes it perfect for the pumpkin fan and cider drinker alike.
Fine Creek Brewing Company
Prince of Parties – 7.2% ABV- Prince of Parties is an IPA brewed as a celebration of New Zealand hops. The aroma leads with sweet lemon-lime notes as well as fresh apricot and underlying shortbread cookies. The flavor is much less sweet but still carries some of those aromas, displaying lemon peel, lime zest, and grapefruit. This IPA has a full juicy body thanks to Murphy & Rude rolled oats but its mild sweetness is quickly balanced by an assertive bitter finish.
Hardywood
Fightin' Hokies – 5% ABV- Clean and crisp, with pleasant aromatics of fresh bread, a subtle underlying floral note from noble hops, and a touch of malt sweetness in the finish, this golden Munich-style helles lager is cold-conditioned for weeks, resulting in an exceptionally refreshing beer. We raise a glass to you, the remarkable people that make Virginia Tech what it is today. Go Hokies!!
Lost Boy Cider
Pumpkin Head – 6.9% ABV- Semi-dry cider with pumpkin, spices, and vanilla.
Three Notch'd Brewing
Apple Crumb – 5.5% ABV- Brewed with cinnamon, vanilla and Virginia-grown apples from Silver Creek & Seaman Orchards in Tyro.
We plan on adding another 25+ beers to this menu the week of the event.
We will also be serving samples of all our regular draft beers from Tysons Biergarten and Waffles & Tacos.
To see Tysons Biergarten's list, click here…
To see Waffles & Tacos' list, click here…
PARKING: 1700 Old Meadow Road, McLean, VA 22102
Parking is conveniently located five minutes away by foot and we offer a completely free, pet friendly, and complimentary Shuttle Bus service that runs on a continuous loop to and from the venue and parking lot! Another alternative is our $20 valet service.
We are also conveniently located steps away from the McLean Metro Station.
Uber Drop Off: 7581 Colshire Dr., McLean, VA 22102
Below is a map on how to get to us from the parking lot and/or the McLean Metro Station.