Dog O Ween
November 4 @ 1:00 PM

-

6:00 PM

Free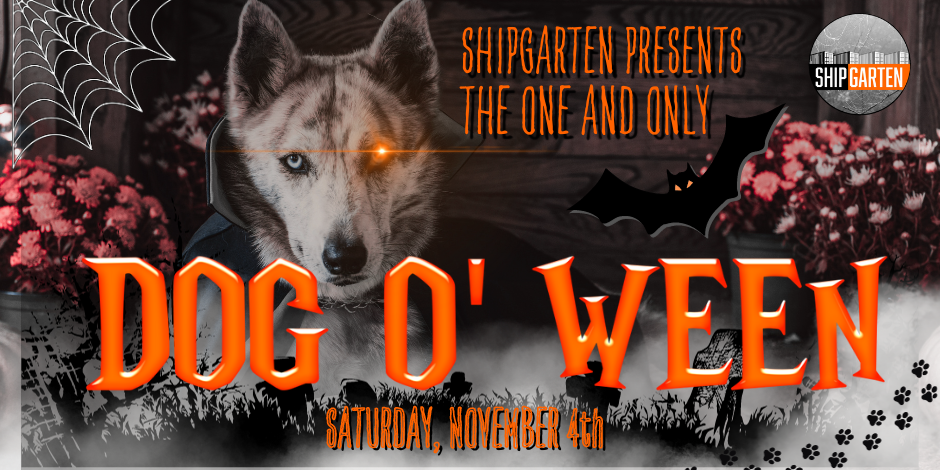 Come celebrate Halloween in our Dog Parks! We will have Trick or Treating for kids and dogs this Saturday! We will also have live music all day at our main stage and a DJ starting at 8 PM. Don't miss out on your opportunity to try some new featured European beers here for a limited time only!
***Shipgarten opens at 11 AM & the festival runs from 1 PM until 6 PM. Restaurant closes at 2 AM***
EVENT SCHEDULE:
2:00 PM – Trick or Treating
3:00 PM – Owner and Pet Competition
– Best Kisser (Dog) Competition
– Best Handshake Competition
– Biggest Dog Competition
– Best Dressed Competition
♫ 12:30-3:30 PM Ben Demase
♫ 4:00-7:30 PM Scott Ericson
♫ 8:00 PM-2:00 AM Shipgarten After Dark ft. DJ KHOZZ
ADDITIONALLY:
➳100+ beer & cider samples from local breweries to choose from
➳ Photo Booth with Accessories
➳Great food
➳Dog Friendly (Check out our Dog menu, play in the dog park, or just bring your pup along)
➳ Bratwursts, Pretzels, Wings, & Special of the Day!
➳ Outdoor Games & Activities
➳ Giveaways, Competitions & Prizes
✪ Featured Breweries ✪
1. Brasserie Dubuisson Scaldis Noël
Belgian Strong Dark Ale / 12% ABV / 21 IBU / 360 CAL / Pipaix, Wallonie /
The Scaldis Noël derives much of its rounded character from the use of roast caramel malts. The hops are carefully balanced with these, added in just the right proportions to develops its subtle hop aroma. There is also a robust fruity character, with the overall taste pleasingly consistent.
2. Brouwerij De Halve Maan Straffe Hendrik Brugs Tripel Bier 9°
Belgian Tripel / 9% ABV / 35 IBU / 270 CAL / Bruges, Vlaanderen /
Straffe Hendrik is a Bitter Tripel Ale of 9% abv. The beer was originally from Bruges and brewed in Bruges by brewery De Halve Maan.
3. Brouwerij De Halve Maan Brugse Zot
Belgian Blonde / 6% ABV / 23 IBU / 180 CAL / Bruges, Vlaanderen /
Brugse Zot is a goldenblond beer with a rich froth and a fruity flavouring. The beer is brewed with four different kinds of malt and two aromatic varieties of hop which give the beer its unique taste. With an alcochol degrees proof of 6 % Vol it is a well balanced, easy drinking beer with character. Brugse Zot is a natural beer born out of a selection of only the best ingredients. Thanks to the refermentation in the bottle, the beer has a longer natural life.
4. Brasserie Dubuisson Bush Blonde Triple
Belgian Strong Golden Ale / 10.5% ABV / 21 IBU / 315 CAL / Pipaix, Wallonie /
In this tripel, the in-bottle re-fermentation has given an intense effervescence to the aromas of the Bush Blonde. The re-fermentation has also sympathetically developed the Blonde's well-rounded, tender character.
5. Delirium – Huyghe Delirium Tremens
Belgian Strong Golden Ale / 8.5% ABV / 24 IBU / 255 CAL / Melle, Vlaanderen /
The allusion to pink elephants and the choice of names is not due to chance. With a particular character, the unique taste results from triple fermentation and the use of three different yeast strains. Sweet, biscuit malt backbone, supported by pleasant warmth and spice, finishes well rounded, floral, and dry.
Color and Sight: Pale blond, the fine and regular sparkle creates a nice, stable foam head.
Scent: Slightly malty, heavy touch of alcohol, spicy.
Taste: A good shot of alcohol ignites in the mouth, as it were, which really warms the tongue and palate. The taste is also characterized by its roundness. The finish is strong, long and dry bitter.
6. Delirium – Huyghe Delirium Red
Fruit Beer / 8% ABV / 10 IBU / 240 CAL / Melle, Vlaanderen /
Colour and sight: Deep dark red colour, with a light pink, compact and lacing head.
Scent: Soft fruity aroma, with hints of almond and mildly sour cherries.
Flavour: Sweet and fruity, with a nice balance between sweet and sour. An excellent dessert beer.
7. Delirium – Huyghe Delirium Nocturnum
Belgian Strong Dark Ale / 8.5% ABV / 24 IBU / 255 CAL / Melle, Vlaanderen /
Color and Sight: Dark Chocolate Brown with a compact foam, white-yellow, stable and creamy. Odor Touches of caramel, mocca and chocolate. Spices such as licorice and coriander are also present.
Taste: Initially a very pleasant sensation in the mouth of alcohol and softness. It is followed by a growing bitterness, which comes partly from hops, but also from roasted malt and chocolate malt. Towards the end, pleasant balance between bitter, sour and sweet notes.
8. Delirium – Huyghe Deliria
Belgian Strong Golden Ale / 8.5% ABV / 32 IBU / 255 CAL / Melle, Vlaanderen /
Colour and appearance: a pale blonde colour and fine creamy-white head which clings to the glass.
Flavour: A pleasant sparkling carbonate content produces a soft, full taste perception. The aroma is very balanced with a fruity, flowery background and an initial Chardonnay impression which evolves into a spicy, mild aroma of hops.
Taste: Full-bodied and balanced with fruity tones of apple and Chardonnay grapes. Deliria has a fine, mild bitterness in its aftertaste and a splendid, round feel in the mouth which evolves well. Special beer brewed once a year to mark International Women's Day.
9. Brooklyn Cider House Bone Dry
Cider – Traditional / 6.9% ABV / 150 IBU / 207 CAL / New Paltz, NY /
10. Brooklyn Cider House Raw
Cider – Traditional / 6.9% ABV / 207 CAL / New Paltz, NY /
11. Brooklyn Cider House Rosé
Cider – Rosé / 5.8% ABV / 174 CAL / New Paltz, NY / Fruity, bubbly, off-dry
12. Brooklyn Cider House Little Wild
Cider – Traditional / 5% ABV / 150 CAL / New Paltz, NY /
Little Wild is a semi-sweet, wild-fermented cider that is tart, earthy and bursting with fresh apple, citrus and honey aromas.
13. Radeberger Gruppe Radeberger Pilsner
Pilsner – German / 4.8% ABV / 33 IBU / 144 CAL / Frankfurt am Main, Hessen /
Crowned the official drink by King Friedrich August III of Saxony, Radeberger, a pilsner style beer brewed near Dresden, is characterized by its dazzling and refreshing taste and has long been enjoyed by German nobility.
14. Radeberger Gruppe Schöfferhofer Grapefruit
Shandy / 2.5% ABV / 75 CAL / Frankfurt am Main, Hessen /
Now that you've discovered the new unique taste of our beer, we salute your ways to keep it fresh. As an original – the first to combine Hefeweizen beer and grapefruit juice, we'd like to introduce you to the "proper" pronunciation of our unusual and challenging name: Chauffeur + ah + (The) Hoff + ah!
15. Dortmunder Actien-Brauerei DAB Export / Dortmunder Export
Lager – Dortmunder / 5% ABV / 23 IBU / 150 CAL / Dortmund, Nordrhein-Westfalen /
Following the introduction of the bottom-fermented brewing process in the mid-19th century, a new beer type became popular and shaped the consumption habits of beer drinkers. The fresh, pale brew with its mildly hoppy flavour became one of the star products of its age. That is why Dortmunder style is considered a milestone in the development of beer culture in the world and became a synonym for superior quality. DAB Dortmunder Export is the finest example of the special bottom-fermented blond lager. It is a harmoniously balanced, crisp and easy-to-drink beer with pleasingly gentle notes of hops and malt. A very well-rounded taste profile with a soft and elegant texture.
16. Radeberger Gruppe Sion Kölsch
Kölsch / 4.8% ABV / 144 CAL / Frankfurt am Main, Hessen /
http://www.sion.de Braukunst ist die Kunst, mit den wenigen Zutaten, die das Reinheitsgebot und die Kölschkonvention vorgeben, etwas Besonderes zu schaffen. Reines Wasser aus eigenem Brunnen, obergärige Hefe aus eigener Reinzucht, bestes Gersten- und Weizenmalz und ausgesuchte Hopfensorten – das Ergebnis daraus kann sich schmecken lassen: spritzig-frisch auf der Zunge, feinherb-hopfig am Gaumen, schlank-elegant im Abgang. Einfach guter Geschmack, der folgende Formen annehmen kann.
17. Radeberger Gruppe BraufactuM Progusta
IPA – Other / 6.8% ABV / 50 IBU / 204 CAL / Frankfurt am Main, Hessen /
Hopfen: Hallertauer Mittelfrüh, Citra, Magnum.
Malz: Pilsener, Wiener, Karamellmalz.
With Progusta, the types of hops used come to the fore, and harmonize perfectly with the bitter note. The hoppy aroma can be attributed to the American Citra and German Hallertauer Mittelfrüh varieties, which complement each other beautifully. The sweetness remaining after fermentation forms a nice interplay with the bitter note. Progusta betont die Charakteristik der verwendeten Hopfensorten. Die Bitternote ist genau auf diese abgestimmt. Als Hopfensorten für das Hopfenaroma wurde die amerikanische Sorte Citra und die deutsche Sorte Hallertauer Mittelfrüh verwendet. Zwei Sorten, die sich ideal ergänzen. Die nach der Gärung verbleibende Restsüße korrespondiert toll mit der Bitternote.
18. Radeberger Gruppe Clausthaler Iso 0.0
Malt Beer / 29 IBU / 0 CAL / Frankfurt am Main, Hessen /
To see our Festival Beer Sampling menu, click here…
To see Tysons Biergarten's Beer Menu, click here…
To see Waffles & Tacos' Beer Menu, click here…