Christmas Tree Lighting Ceremony
December 2 @ 1:00 PM

-

9:00 PM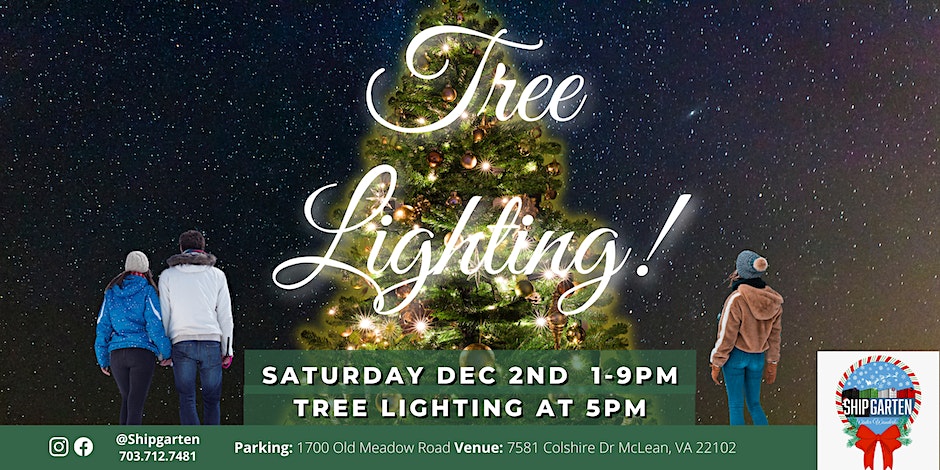 Join us Saturday, December 2nd in kicking off the holiday season! Santa's elves have been hard at work decorating Shipgarten's Winter Wonderland and Santa's Workshop. Grab one of our many hot drinks and enjoy the holiday lights and Christmas carols. At 5pm gather around for our ceremonial lighting of the Christmas Tree.
✪ Schedule ✪
❅ ♫ 12:30-3:30 Mike Setti Acoustic Solo/Duo
❅ 2:00 PM – 'Snowball' Toss
❅ 3:00 PM – Marshmallow-Run-Relay (egg on a spoon relay with marshmellows)
❅ 4:00pm- Christmas Carols
❅ 5:00pm- Christmas Tree Lighting Ceremony
❅ ♫ Live DJ (8:00 PM – 2:00 AM)
🥊8:00PM Garcia vs Duarte Watch Party
🏈8:00PM Big Ten Championship Michigan vs Iowa
🏈8:00PM ACC Championship Florida State vs Louisville
👊9:00PM BKFC 56 Perry vs Alvarez Watch Party
Shipgarten offers 2-155″ TV Walls, 8 TVs, 3 outdoor projectors & 3 indoor to watch it ALL
Winter Wonderland:
❅ Free Photos with Santa (dogs welcome)
❅ Hot Drinks Menu
❅ Over 20 Holiday Inflatables
❅ 3 Grand Christmas Trees
❅ Craft with Mrs.Claus in Santa's Workshop
❅ Try Roasting S'mores at our Fire Pits
❅ Free Face Painting
❅ Photo Ops with Christmas Props
❅ 25+ Christmas Inflatables
❅ Holiday Music
✪ Featured Breweries ✪
Three Notch'd Biggie S'mores
Stout – Imperial / 8% ABV / 40 IBU / 240 CAL / Charlottesville, VA /
Biggie is made with crushed graham crackers, chocolate malts, all mixed up in a delicious Imperial milk stout.
How ya living Biggie S'mores? In chocolate and Benz's givin booze to my friends and it feels stupendous imperial stout. A chocolate lovers dream whaaat still tota cocoa and marshmallowey cream choppin honey maids. About 80 boxes of those making great beer is all we knows
Three Notch'd Bourbon Barrel Biggie S'mores
Stout – Imperial / 11.7% ABV / 40 IBU / 351 CAL / Charlottesville, VA / This notorious B.I.G. barrel-aged imperial stout is literally dessert in a can
Three Notch'd Duke of Clouds (FIRST PLACE TO HAVE IT ON TAP)

IPA – New England / 5.1% ABV / 10 IBU / 153 CAL / Charlottesville, VA /
This hoppy hazy session IPA delivers a citrus punch with Citra and Amarillo hops. Coming in at a cool 5.1% ABV this crushable IPA might just be your new favorite fridge beer.
Ace Cider (The California Cider Company) HIGH! Imperial Berry
Cider – Other Fruit / 8% ABV / 240 CAL / Sebastopol, CA /
How High? Pie in the sky. Blackberry, Raspberry, and Strawberry sunsets. A triple berry blast of rich yumminess. Swimming in an imperial, 8.0% abv cider. Rose colored glasses for the soul.
Brasserie d'Achouffe Houblon Chouffe
IPA – Belgian / 9% ABV / 47 IBU / 270 CAL / Achouffe, Wallonie /
The gnomes of Fairyland may be little, but they have big, very big, personalities. HOUBLON CHOUFFE matches their impish spirits. All gnomes, with their innate good taste, are in full agreement about HOUBLON CHOUFFE, which is flavoured by three different types of hops. This India Pale Ale is appreciated for its pronounced bitterness combined with the fruity tones of traditional Achouffe beers: it softens the strongest of characters.
Brasserie d'Achouffe La Chouffe Blond
Belgian Strong Golden Ale / 8% ABV / 20 IBU / 240 CAL / Achouffe, Wallonie /
The gnomes of Fairyland are particularly fond of this golden beer. LA CHOUFFE, with its slight hoppy taste, combining notes of fresh coriander and fruity tones, is the drink which gives them their zest for life. At least, that's what these imps say when they are thirsty. Their secret used to be jealously guarded from one generation to the next until the day they shared the recipe with humans to seal their friendship. Of all the legends from the wonderful region of the Belgian Ardennes, the tale of LA CHOUFFE is the one which most merits re-telling.
Brasserie d'Achouffe Mc Chouffe
Belgian Strong Dark Ale / 8% ABV / 20 IBU / 240 CAL / Achouffe, Wallonie /
Among the mythical characters living in Fairyland, some are more unusual than others. Malcolm, for example, is different because of his accent and his kilt: when it comes to beer, his favourite is Mc CHOUFFE. The delicious flavours of aniseed, liquorice and toffee tickle his taste buds. If you listen to him, he will boast of its ruby sparkle, its smooth bitterness and its strong character, worthy of his native Scotland. Although robust, Mc CHOUFFE goes down as easily as LA CHOUFFE.
Brooklyn Cider House Bone Dry
Cider – Traditional / 6.9% ABV / 150 IBU / 207 CAL / New Paltz, NY /
Brooklyn Cider House Little Wild
Cider – Traditional / 5% ABV / 150 CAL / New Paltz, NY /
Little Wild is a semi-sweet, wild-fermented cider that is tart, earthy and bursting with fresh apple, citrus and honey aromas.
Brooklyn Cider House Raw
Cider – Traditional / 6.9% ABV / 207 CAL / New Paltz, NY /
Brooklyn Cider House Rosé
Cider – Rosé / 5.8% ABV / 174 CAL / New Paltz, NY /
Fruity, bubbly, off-dry
Brouwerij Rodenbach Rodenbach Grand Cru
Sour – Flanders Red Ale / 6% ABV / 35 IBU / 180 CAL / Roeselare, Vlaanderen /
This is an aged Belgian red ale, which is 'ripened quietly in oak barrels for two years', according to the label. It has an extremely pungent aroma of rich grapey fruit, with acidic notes, very much like a slightly sour red wine or possibly a gueuze. In the mouth it is slightly sweet, extremely acidic and fruity, with grapes and even cherries discernible, and very lively. Despite the sweetness it is not at all cloying, even thin, with little or no trace of malt. Finish is sharp and fruity.
Ciderboys Hard Cider Peach County
Cider – Other Fruit / 5% ABV / 150 CAL / Stevens Point, WI /
The ice chill of the bottle smiles at the heat of the day. Thirst quenching apple and ripe fuzzy peach collide in a fantasy blend. Crank up the piano keys. Dance if you want to. When summer breezes soar under the light of a crescent moon, this is your party.
Delirium – Huyghe Delirium Nocturnum
Belgian Strong Dark Ale / 8.5% ABV / 24 IBU / 255 CAL / Melle, Vlaanderen /
Color and Sight:
Dark Chocolate Brown with a compact foam, white-yellow, stable and creamy. Odor Touches of caramel, mocca and chocolate. Spices such as licorice and coriander are also present.
Taste:
Initially a very pleasant sensation in the mouth of alcohol and softness. It is followed by a growing bitterness, which comes partly from hops, but also from roasted malt and chocolate malt.
Towards the end, pleasant balance between bitter, sour and sweet notes.
Downeast Cider House Maple Waffle
Cider – Sweet / 5% ABV / 150 CAL / Boston, MA /
Our newest taproom exclusive is
Maple Waffle. Inspired by the only two elements of a boozy brunch, it's maple flavored and waffle flavored, which is how we landed on the name.4
Downeast Cider House Winter Blend
Cider – Herbed / 6.5% ABV / 195 CAL / Boston, MA /
Aged on toasted oak chips with cinnamon & nutmeg
Juicy Brewing Kuzy 777 (GO CAPS)

Lager – Vienna / 5% ABV / 150 CAL / Herndon, VA /
Evgeny Kuznetzov joined brewers at Juicy Brewing in Herndon to brew a limited release beer. The Kuzy 777 is a tribute to Evgeny's inevitable next milestone of 777 points. It has more color and flavor than a lager, but is exceptionally drinkable. Amber in appearance with a fuller body from all natural grain brewing and the long lagering required for a beer of this class. The beer has been slightly dry hopped for better natural perfume and pleasant bitterness. The strata hops give it strawberry and citrus aromas.
Juicy Brewing Luminous – CE – Citra Ekuanot
IPA – American / 7.2% ABV / 40 IBU / 216 CAL / Herndon, VA /
A refreshing new take on a timeless classic, featuring only the highest quality German malts and meticulous layers of Hop Character added from 5 separate hops used to brew this beer. Mango, Citrus, and Peach dominate the aromatics. Upon first sip grapefruit, melon, subtle pine, and a light malty toast dance on the palette in harmony. Finishing surprisingly smooth with clean hop character.
Juicy Brewing Mega Fruit – GS Guava Strawberry
Sour – Smoothie / 6% ABV / 180 CAL / Herndon, VA /
Special Edition for our Mega Fresh Fest 2023. Tonnes of Strawberry and Guava carefully blended for your enjoyment. Fruit only smoothie sour made with real fruit. No lactose.
Köstritzer Schwarzbierbrauerei Köstritzer Schwarzbier
Schwarzbier / 4.8% ABV / 22 IBU / 144 CAL / Bad Köstritz, Thüringen /
Since April 1991, the Köstritzer black beer brewery, a subsidiary of the Bitburger brewery, has emerged as of one of the most modern breweries in Thuringia. In September 1993, it was with great pride we (re-) introduced the "original Köstritzer black beer".
Mustang Sally Crumbs: Key Lime Pie
Sour – Fruited / 8.2% ABV / 246 CAL / Chantilly, VA /
Key Lime Pie inspired Imperial Sour. Newest addition to the Crumbs series and brewed to remind you of the key lime pies that your grandparents used to make.
Old Ox Black Ox
Porter – Other / 6% ABV / 20 IBU / 180 CAL / Ashburn, VA /
A robust rye porter with hints of coffee and chocolate nicely balanced with a subtle hop influence. A substantial, malty ale, complex and flavorful with a medium body and a slightly roasty finish. The rich dark color is deceptively refreshing. The spice in the rye clears the palate. A sip will explain why we say this is a delightful combination of sweet and spicy!
Old Ox Keg Nog
Spiced / 8% ABV / 240 CAL / Ashburn, VA /
We've brewed up one Dickens of an ale. Wheat, oats, and lactose contribute to a silky mouthfeel while nutmeg, vanilla and cinnamon add just the right amount of spice. Images of Fezziwig will dance in your head!
Potter's Craft Cider Sod Cutter
Cider – Dry / 5.5% ABV / 165 CAL / Charlottesville, VA /
Pineapple Margarita Gose Cider
Three Notch'd Mango Wheat
Wheat Beer – American Pale Wheat / 4.8% ABV / 12 IBU / 144 CAL / Charlottesville, VA /
Crushable wheat beer brewed with slightly sweet, juicy mango
Cavit Pinot Grigio Valdadige
Cavit Pinot Noir delle Venezie IGT
La Marca Prosecco
La Marca Prosecco Rose
Risata Moscato d'Asti DOCG