Veteran's Day Festival
November 11 @ 1:00 PM

-

November 12 @ 2:00 AM

Free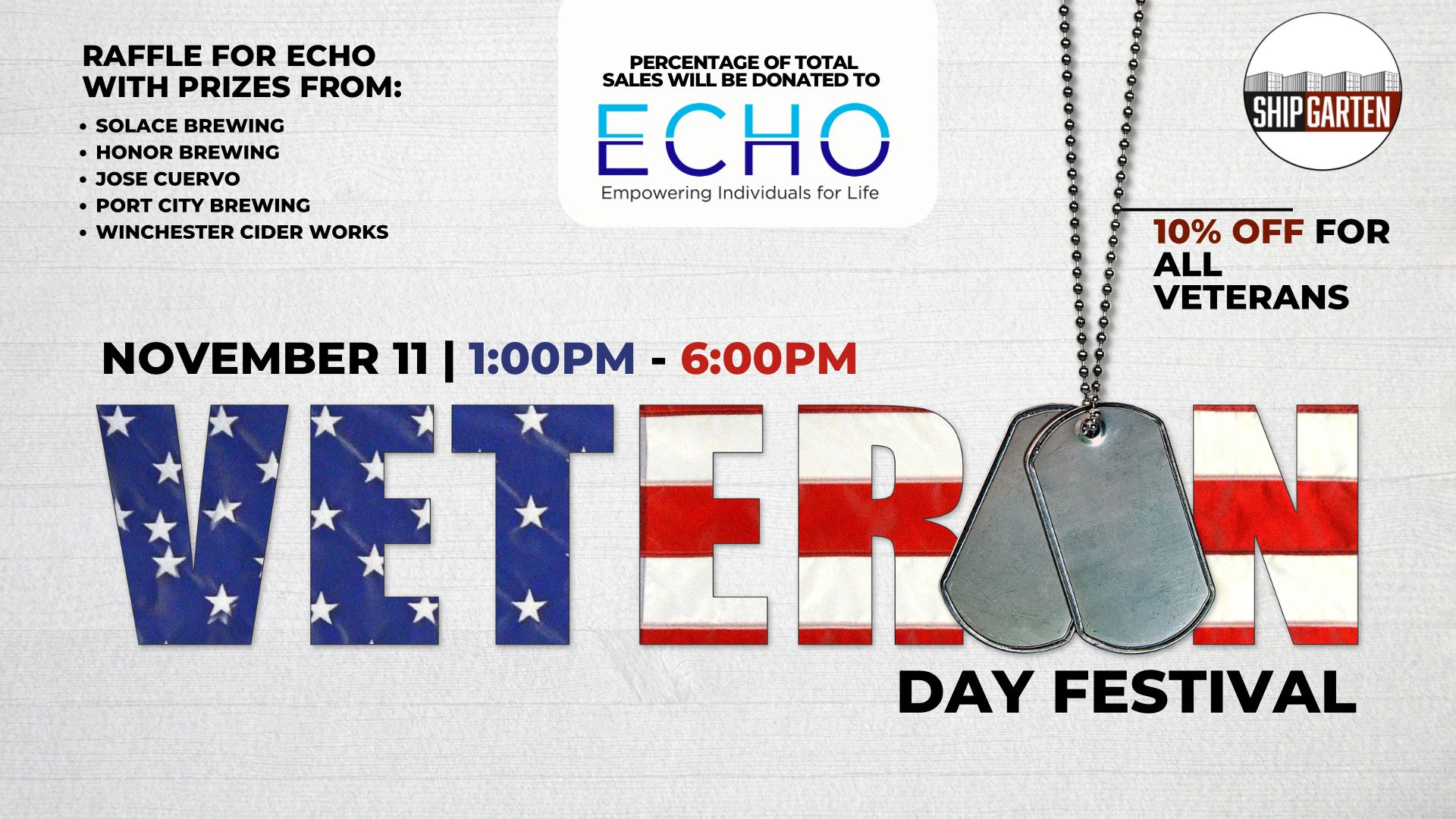 Come join us on Veteran's Day Saturday, November 11th to support and celebrate our Vetern's! 10% OFF food for all Veteran's. We will have multiple local breweries donating special items to be raffled off.
Solace Brewing
Honor Brewing
Port City
Winchester Cider Works
Lost Rhino
Wetten Imports
Two Roads Brewing
Jose Cuervo
Oskar Blues
***Shipgarten opens at 11 AM & the festival runs from 1 PM until 6 PM. Restaurant closes at 2 AM***
EVENT SCHEDULE:
2:00PM Minute Jenga
3:00PM Raffle Winners Announced (must be present to win)
4:00PM Keg Curling
5:00PM Stein Hoisting
♫ 12:30 -3:30 PM Thomas Starr
♫ 4:00-7:30 PM Jason Clark
♫ 8:00 PM-2:00 AM Shipgarten After Dark ft. DJ Knom and DJ jn0z KPOP Party
Shipgarten offers 2-155″ TV Walls, 8 TVs, 2 outdoor projectors & 3 indoor Projectors to watch.
ADDITIONALLY:
➳100+ beer & cider samples from local breweries to choose from
➳ Photo Booth with Accessories
➳Great food
➳Dog Friendly (Check out our Dog menu, play in the dog park, or just bring your pup along)
➳ Bratwursts, Pretzels, Wings, & Special of the Day!
➳ Outdoor Games & Activities
➳ Giveaways, Competitions & Prizes
✪ Featured Breweries ✪
1. Solace Partly Cloudy
IPA – New England / 7.5% ABV / 225 CAL / Dulles, VA /
A double dry-hopped, New England style IPA. Hopped exclusively with El Dorado and Citra. This is our juiciest IPA yet!
2. Solace Laces Out
IPA – American / 6.5% ABV / 195 CAL / Dulles, VA / Brewed with Galaxy, Lotus and El Dorado Hops.
3. Honor Sonic Boom
IPA – Imperial / 8% ABV / 70 IBU / 240 CAL / Arcola, VA /
Prepare to be blown away by this double IPA dry-hopped with insane amounts of dank and juicy Mosaic, Citra, and Azacca. A light golden haze of wheat and oats support a burst of hops on the nose and palate. A swift punch of flavor, directly to your taste buds!
4. Honor Lady Liberty
Wheat Beer – Other / 5.5% ABV / 10 IBU / 165 CAL / Arcola, VA /
Belgian style American wheat beer that is brewed to be crisp, refreshing, and drinkable. Brewed with Pilsner and wheat malts, American yeast, and one pound per gallon of fresh tart and sweet cherry puree.
5. Port City Optimal® Wit
Wheat Beer – Witbier / 4.9% ABV / 15 IBU / 147 CAL / Alexandria, VA /
GABF: 2013 & 2021 Gold, 2015 Bronze, 2018 Silver, in the Belgian-style Witbier category.
Unfiltered Wheat Beer with Orange Peel, Coriander, and Grains of Paradise (relative of ginger root). A light and refreshing beer, with a balance of drinkability and complexity. Crisp, citrus flavor with spice and a subtle pepperiness on the finish.
6. Port City Tidings® Ale
Belgian Strong Golden Ale / 8.5% ABV / 25 IBU / 255 CAL / Alexandria, VA /
Tidings® is a strong, spicy Belgian-style blonde ale brewed with local wildflower honey and 100% Virginia grown wheat. These local ingredients store away the essence of summer to warm you during the cold winter months. This festive ale is gently spiced with coriander, cardamom, fresh ginger, and Grains of Paradise, Tidings® balances complexity with drinkability.
7. Winchester Ciderworks Sinner's Cider
Cider – Other Fruit / 6% ABV / 180 CAL / Winchester, VA / Elderberry cider made in collaboration with Bridge City Sinners.
8. Winchester Ciderworks Cin-Ter Wonderland
Cider – Herbed / 6% ABV / 180 CAL / Winchester, VA / Refreshing Off Dry cider with cinnamon and other spices.
9. Lost Rhino Final Glide
Wheat Beer – Hefeweizen / 5.4% ABV / 14 IBU / 162 CAL / Ashburn, VA /
A Bavarian-style hefeweizen brewed with malted german wheat. The ferrulic rest in the brew schedule gives the authentic German hefe strain the potential to create these nice banana and clove phenols you'll recognize. True to style, served in our signature hefeweizen glass, a great beer for those warm summer days.
10. Lost Rhino Hammer Down
Lager – Helles / 5.1% ABV / 25 IBU / 153 CAL / Ashburn, VA /
11. Two Roads Czech Pilsener
Pilsner – Czech / 5% ABV / 150 CAL / Stratford, CT / Our take on the classic Czech Pilsener.
12. Two Roads Holiday Ale
Farmhouse Ale – Bière de Garde / 7.3% ABV / 219 CAL / Stratford, CT /
Two Roads Holiday Ale is inspired by the little known Biere de Noel style, a subset of Biere de Garde, both of which originated on small farmhouse breweries in the north of France. Biere de Noel, which translates as "Christmas Beer", tends to exhibit a more malty profile than a typical Biere de Garde. In its native France this special type of ale is brewed by just a handful of small breweries and is only available for the few weeks leading up to Christmas. 2015 GIBF silver medal- Biere de Garde
T o see our Festival Beer Sampling menu, click here…
To see Tysons Biergarten's Beer Menu, click here…
To see Waffles & Tacos' Beer Menu, click here…