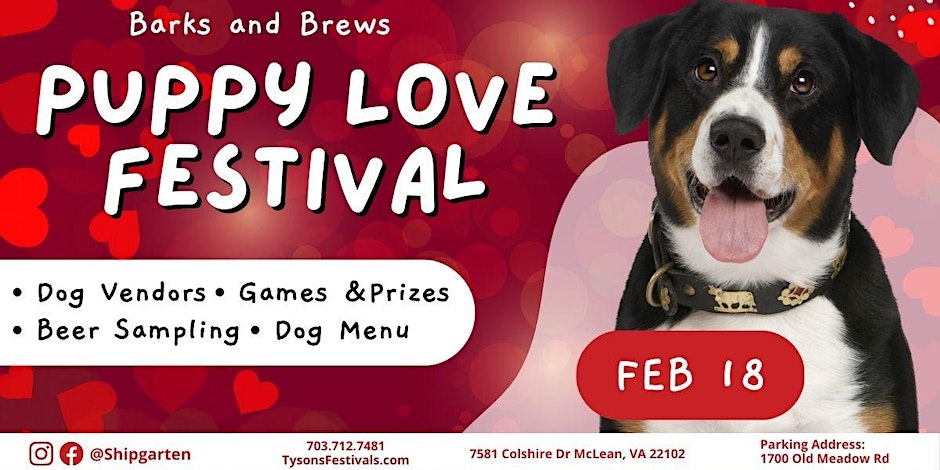 This February we're all about puppy love! Show your pup a little extra love and bring them out to Shipgarten February 18th from 1-6pm for our Barks and Brews festival 🍻🐾 Try deluxe homemade treats from our doggie vendors, play in our dog park, or give your pup something from our special dog menu. Enjoy sampling over 40 breweries, compete in festival events for prizes, or take pictures in our photo booth- there's something for everyone!
***Shipgarten opens at 11 AM & the festival runs from 1 PM until 6 PM. Restaurant closes at 2 AM***
EVENT SCHEDULE:
♫ Live Music (12:30 PM – 7:30 PM)
♫ 12:30-3:30 PM Nick Tierra
2:00 PM Treat Catch (Dog) Contest
3:15 PM – ★ Live Character Performance by Batman, Cinderella & Spiderman★
4:30 PM Best Puppy Love (Dog) Contest
♫ 4-7:30 PM Bethany Gates
♫ Live DJ (8:00 PM-2:00 AM)
ADDITIONALLY:
➳40+ beer & cider samples from local breweries to choose from
➳ Photo Booth with Accessories
➳Great food
➳Dog Friendly (Check out our Dog menu, play in the dog park, or just bring your pup along)
➳ Bratwursts, Pretzels, Wings, & Special of the Day!
➳ Outdoor Games & Activities
➳ Giveaways, Competitions & Prizes
➳ Kids Corner with Face Painting, Moon Bounce, Crafts and more!
★We plan on adding another 25+ beers to this menu the week of the event★
★We will also be serving samples of all our regular draft beers from Tysons Biergarten and Waffles & Tacos.
To see Beer Sampling menu, click here…
To see Tysons Biergarten's list, click here…
To see Waffles & Tacos' list, click here…