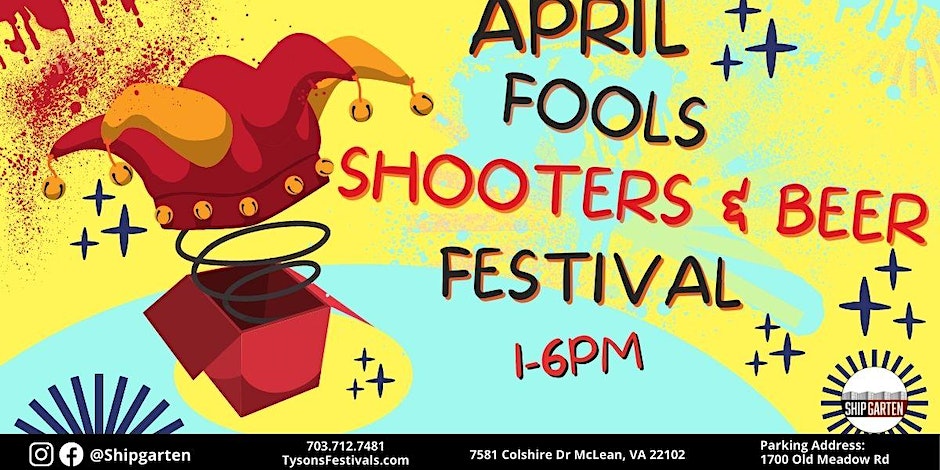 🎪🤡Get Pranked at Shipgarten by Jesters, The Boozy Easter Bunny, Drunken Leprechauns, Clowns and More for April fools Shooters & Beers Festival🤡🎪
April Fools is right around the corner and we are guna make it a time to be had. Join us on Saturday April 1 from 1-6pm for our Adults April Fools Shooters & Beer Festival! Try beer sampling from 100+ beers (includes are 5 permanent bars and 1 pop up bar), games, prizes, special guest performances, photo booths and more! Watch out for various surprise characters that will come to play pranks on you. Examples : Magicians, Clowns, Jesters, Leprechauns and who knows what else! Please note: We will be playing lots of jokes on you, bring a good attitude and prepare to laugh!!!!!
Shooters: We will have a wide variety of shooters available for example: Jell-O Shots, Kamikaze, Apple Pie Moonshine Shooters, Green Tea Shots, Lemon Drop, Buttery Nipple, Irish Car Bombs, Alabama Slammer, Washington Apple and more. Each shooter is worth 2 tickets at $3 a piece.
Beers: 100+ beers to sample from IPAs to Sours to Pilsners and more. Each sample ticket is only $3 and we will have 6 bars set up for you to sample at
***Shipgarten opens at 11 AM & the festival runs from 1 PM until 6 PM. Restaurant closes at 2 AM***
EVENT SCHEDULE:
♫ 12:30 -3:30 PM James Stevens
1 PM -6 PM ★Live Pranksters (Clowns, Jesters, Leprechauns & More) ★
2:00 PM Hot Dog Eating Contest
3:00 PM 3-Legged Race (Pairs)Contest
♫ 4-7:30 PM Adewla and The Uprising
♫ DJ KHOZZ Live (8:00 PM-2:00 AM)
ADDITIONALLY:
➳100+ beer & cider samples from local breweries to choose from
➳ Photo Booth with Accessories
➳Great food
➳Dog Friendly (Check out our Dog menu, play in the dog park, or just bring your pup along)
➳ Bratwursts, Pretzels, Wings, & Special of the Day!
➳ Outdoor Games & Activities
➳ Giveaways, Competitions & Prizes
To see our Special events Beer Sampling menu, click here…
To see Tysons Biergarten's Beer Menu, click here…
To see Waffles & Tacos' Beer Menu, click here…
All 3 beer menus plus more will be available for sampling during the festival