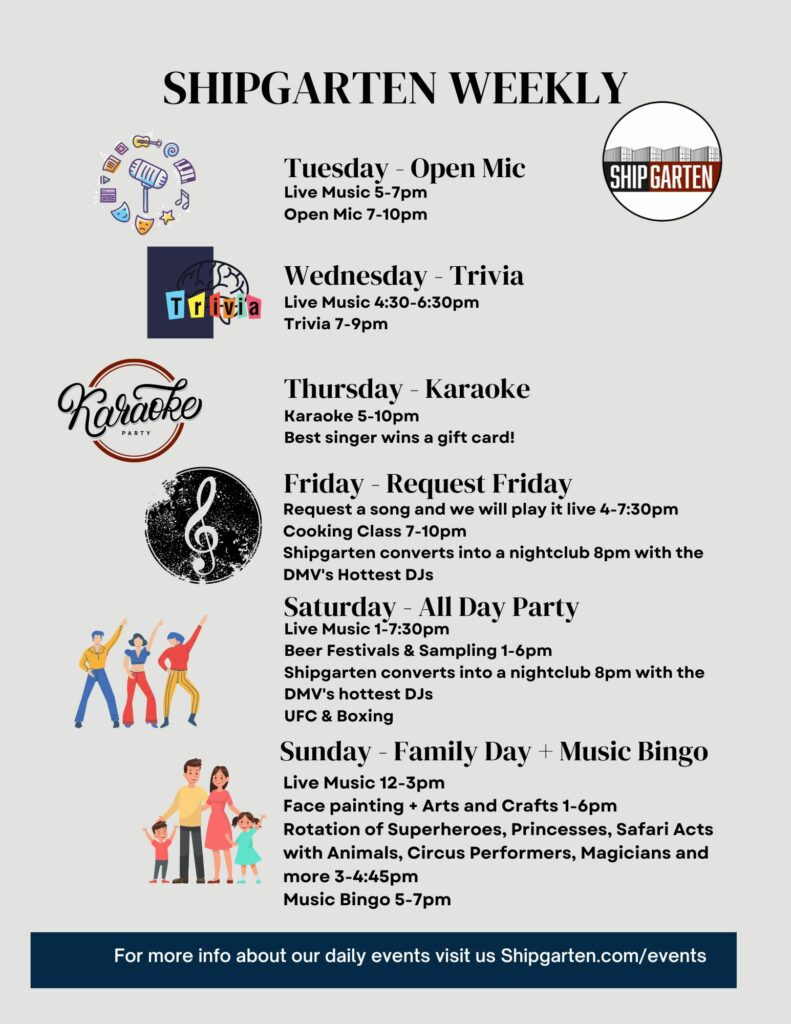 Here at Shipgarten we boast that we have something for everyone here. And we truly believe that! We have done our best to build out a full calendar of events for you and your friends to come attend and have a good time!
See below for all the good details:
Tuesday– Live Music (5-7pm) // Open Stage (7-10pm)
We invite impromptu performances or if you'd like to bring your own instrument and set up – fantastic!
Wednesday– Trivia Night (7-9pm)
Come out to Shipgarten on Wednesdays for the perfect outlet for your competitive spirits. From 7 – 10PM, our friends at Pour House Trivia host some of the best light-hearted fun in Tysons. Drawing from a wide-variety of categories, this event is a favorite among Shipgarten customers for the lively and passionate hosts and the interesting and relevant trivia questions.
Thursday– Karaoke Party (5-10pm)
On Thursdays from 5 – 10 PM, come out with that beautiful voice and sing your heart away. We welcome all vocal ranges and abilities!
Friday– Request Fridays (4-7:30pm) // Shipgarten After Dark ft. DJ SAAM (8pm-2am)
On Fridays, we have our fan-favorite Nick Tierra come out from 4 until 7:30 for Request Fridays. That's right – the choice is in your hands! Throw a song at him and watch him perform it. Afterwards stay to party with resident DJ SAAM as we transform into a nightclub.
Saturday– All Day Party// Festivals from 1-6pm// Shipgarten After Dark ft. DJ KHOZZ
Come out for our themed festivals during the day and stay to party with us when we turn into a nightclub at 8pm. We bring in the hottest DJ's in D.C. to set the vibe for you!
Sunday– Kids and Family Festivals from 1-6pm// Music Bingo 5-7pm
A full day of Family Fun with live music, character performances and face painting moon bounces and more! An entire day the whole family can enjoy. Then Capital Bingo comes in to host Music Bingo; it's Bingo meets Name That Tune that comes to the best Biergarten venue in Tysons!