For those who know Shipgarten, happy hour is definitely a misnomer. And when we mean misnomer, we mean it simply doesn't do justice to the Shipgarten experience. Our venue is conducive to happiness at all hours – not at just one hour – with more than 50 different draft lines along with speciality cocktails, indoor and outdoor options, fire pits with s'mores kits, a dog park for your best pal, four different delicious dining options, & more all in the heart of Tysons. We truly have the best happy hour around.
But let's get back on topic, back to Happy Hour. We offer our signature Happy Hour deals during six whole hours from 3 – 9 PM Monday through Friday. Want one of our House ciders, IPA's, or pilsners? $5. Looking for 12 juicy, flavorful chicken wings? $8. A big, hot, doughy pretzel with dips that pairs perfectly with our German brews? $7. Take advantage of our great offerings – order as much or as little as you want, and have a great time at our place!
________
Do you know what goes great with our Weekly Happy Hour Offerings? Our Weekly Events! If you are ever curious what we have happening on a random Tuesday night, you can always locate our calendar in our website header; but for now, see our list of Weekly Events below!
Tuesday– Live Music (5-7pm) // Open Stage (7-10pm)
Wednesday– Trivia Night (7-9pm)
Thursday– Karaoke Party (5-10pm)
Friday– Request Fridays (4-7:30pm) // Shipgarten After Dark ft. DJ SAAM (8pm-2am)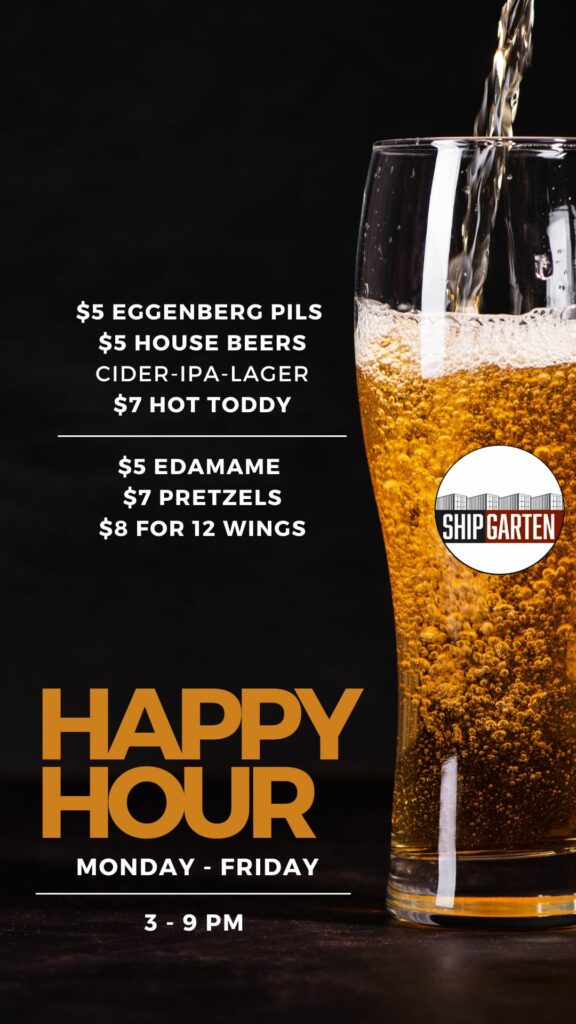 OFFERINGS:
$5 EGGENBERG PILS
$5 HOUSE BEERS
(CIDER, IPA, LAGER)
$7 HOT TODDY
_____
$5 EDAMAME
$7 PRETZELS
$8 FOR 12 WINGS