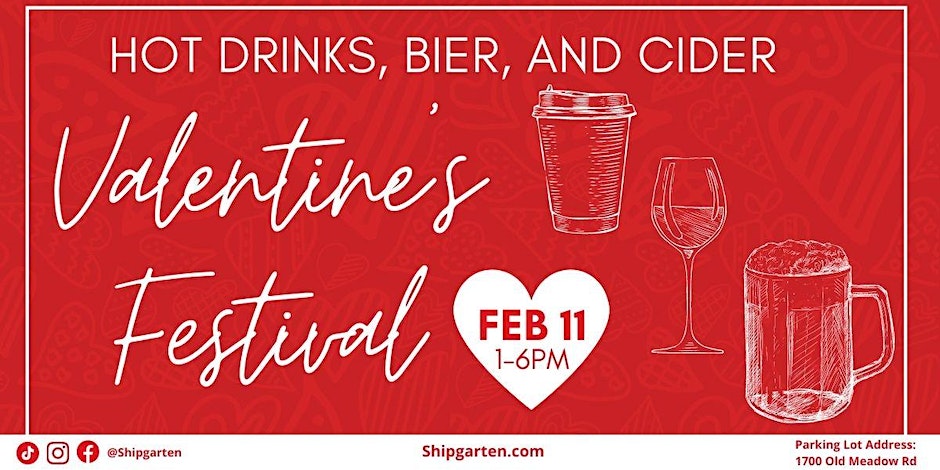 This Valentine's Day keep it hot with hot drink specials from our winter menu! February 11th from 1-6pm come out to Shipgarten for our hot drinks, bier and cider festival. Try sampling from 40+ breweries, take photos with your sweetheart in our photo booth, or bring a date to compete for prizes!
***Shipgarten opens at 11 AM & the festival runs from 1 PM until 6 PM. Restaurant closes at 2 AM***
EVENT SCHEDULE:
♫ Live Music by School of Rock Performers(11:00 AM – 7:00 PM)
♫ CBGB 11:00 AM
♫ SMASHING PUMPKINS 12:30 PM
♫ MOTOWN 2:00 PM
2:00 PM Oreo Roll (Pairs)Contest
3:15 PM – ★ Live Character Performance by Black Panther & Beauty and the Beast★
♫ QUEEN 3:30 PM
4:00 PM Lovers 3-Legged Race (Pairs)Contest
5:00 PM- Don't Break My Heart (Pairs) Contest
♫ NU METAL 5:30 PM
♫ Live DJ (8:00 PM-2:00 AM)
ADDITIONALLY:
➳40+ beer & cider samples from local breweries to choose from
➳ Photo Booth with Accessories
➳Great food
➳Dog Friendly (Check out our Dog menu, play in the dog park, or just bring your pup along)
➳ Bratwursts, Pretzels, Wings, & Special of the Day!
➳ Outdoor Games & Activities
➳ Giveaways, Competitions & Prizes
➳ Kids Corner with Face Painting, Moon Bounce, Crafts and more!
★We plan on adding another 25+ beers to this menu the week of the event★
★We will also be serving samples of all our regular draft beers from Tysons Biergarten and Waffles & Tacos.
To see Tysons Biergarten's list, click here…
To see Waffles & Tacos' list, click here…