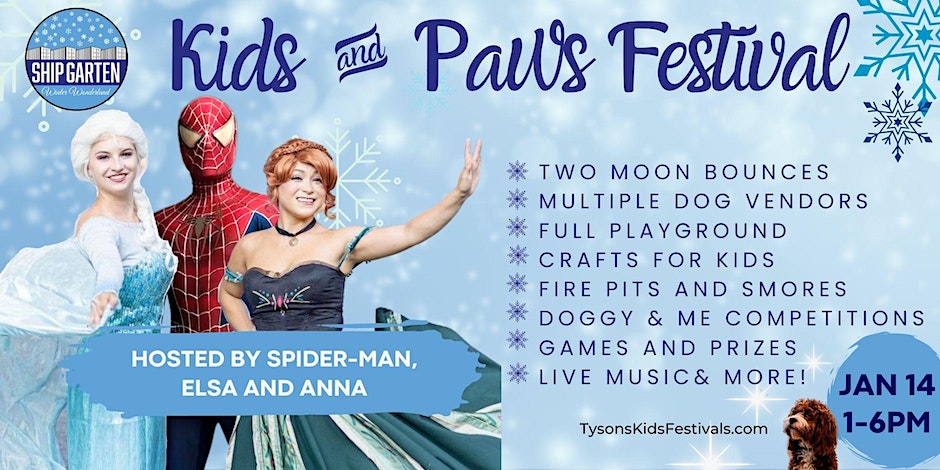 Looking to unwind from the stress of the holidays and have someone else host for a change? Shipgarten's got you covered! Join us Saturday January 14th from 1-6pm for our Winter Family Festival. It's National "Dress Up Your Dog" Day and we're going all out! Try guided sampling from 40+ breweries, compete with your pup for prizes, or stay warm and cozy around our fire pits. Browse tables from local dog vendors, play in the dog park, or treat your pup from our special dog menu. There's activities for adults, kids and pups of all ages!
***Shipgarten opens at 11 AM & the festival runs from 1 PM until 6 PM. Restaurant closes at 2 AM***
EVENT SCHEDULE:
2:00 PM – Smallest and Biggest Dog Competition
2:30 PM – Best Trick and Best Dressed Competition
3:00 PM – ★ Live Character Performance with Elsa, Anna, and Spiderman★
4:00 PM – Hold for Treat Competition
♫ Live Music (12:30 PM – 7:30 PM)
♫ Adam K Performing from 12:30-3:30pm
♫ Billy T Wilde from 4pm-7:30pm
★Local dog vendors
★ 2 Moon Bounces
★ 2 Playground sets
★ Dog Agility Course
★ Photo Booth with Accessories for you and your pup(s)!
★ Dog Spa
★ Kissing Booth
★ Bubble Chase
★ Outdoor Games & Activities
★ Giveaways, Competitions & Prizes
★Dog Friendly (Check out our Dog menu, play in the dog park, or just bring your pup along)
★Kid Friendly (Playground, face painting, crafts corner)
★ Bier & Samples
★Great food