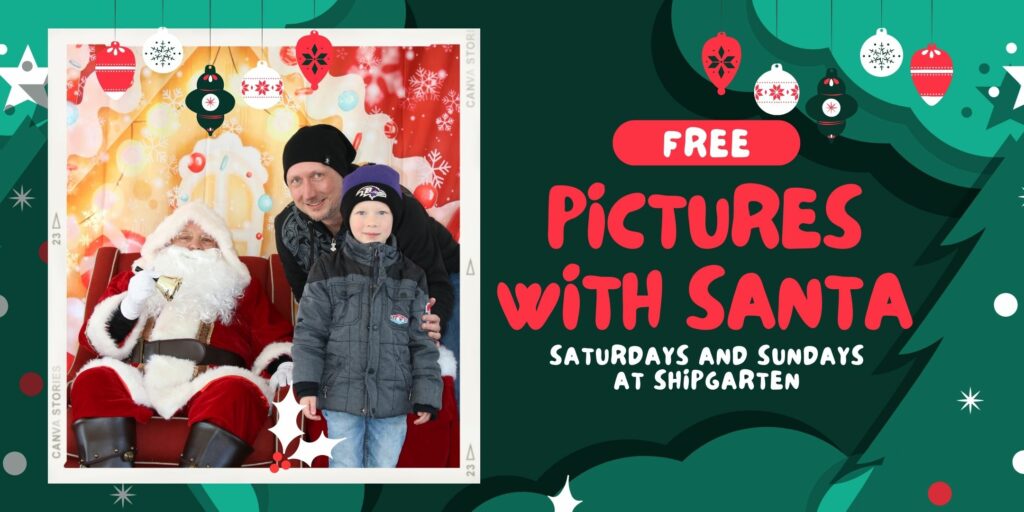 This holiday season at Shipgarten, get your picture taken with Santa for free! Each Saturday and Sunday from 1-6pm, visit Santa's Workshop and put your name on his list- no reservations necessary. Photos from each weekend will be available for download from our Facebook gallery the following Tuesday by 5pm. Pictures are available to everyone, including pups!
Also in Santa's Workshop, try crafting with Mrs.Claus, free face painting, or our holiday games.
Winter Wonderland- The Experience
❅ Free Photos with Santa (dogs welcome)
❅ Hot Drinks Menu
❅ Over 20 Holiday Inflatables
❅ 3 Grand Christmas Trees
❅ Craft with Mrs.Claus in Santas Workshop
❅ Try Roasting S'mores at our Fire Pits
❅ Free Face Painting
Get into the holiday spirit with Shipgarten's Winter Wonderland, take our shuttle-turned-Polar Express from our free parking and check out the fun! All your Shipgarten favorites have had a winter makeover- grab a hot drink from our new special menu and enjoy our holiday lights and decorations. At night, take in the stunning views of Tysons and try your hand at making s'mores at our new fire pits.